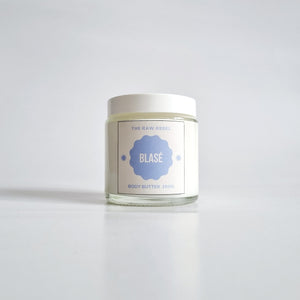 The Raw Rebel
Blasé Body Butter
Regular price
RM58.30
RM0.00
Unit price
per
Lovely, rich and indulgent without being greasy, Blasé is a handmade glossy concoction loaded with avocado and shea butters. It's a coconut-free option, perfect for parched skin!
"Gotu Kola is traditionally used in Pan-Asian, holistic, and Ayurvedic medicine, and it is often considered the plant of longevity and restoration. Gotu Kola is rich with antioxidants. It augments the skin's ability to fend off environmental stressors that can wreak havoc on your skin and dispels impurities that can bring about signs of premature aging, such as dark spots, wrinkles, and dull skin."
Plum Kernel Oil brightens and plumps skin, protects against radical damage and oxidative stress, and aids in cellular repair, sebum production, and skin turnover.  In general, plum oil is beneficial to all skin types as it is a lightweight, noncomedogenic oil and safe for acne-prone skin. Of course, if you are allergic to plums, you should avoid."
100g
Housed in a clear glass jar
Your Ritual: Once you're finished your shower routine, scoop a little (or a lot) and massage all over using soothing, circular motions and give yourself a few minutes to let the magic happen.
Ingredients: Water, Avocado Butter, Shea Butter, Squalane, Hemisqualane, Hydrogenated Olive Oil, Olive Oil, Cetearyl Olivate, Sorbitan Olivate, Ethyl Olivate, Olive Leaf Extract, Glycerin, PEG-10 Sunflower Glycerides, Olive Oil PEG-7 Esters, Gotu Kola Extract, Plum Kernel Oil, VP Copolymer, Sorbitan Caprylate, Propanediol, Benzoic Acid, Tocopherol Acetate. 
---