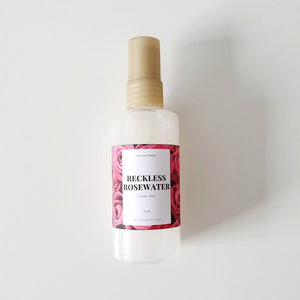 The Raw Rebel
Reckless Rosewater Toner
Regular price
RM17.60
RM0.00
Unit price
per
Versatile Reckless Rosewater is made with small-batch rose hydrosol. The liquid has the faint scent of roses, contains antioxidants, and can help hydrate skin. It is said to be suitable for all skin types, especially those with dry, irritated, or mature skin.

Some say that rose hydrosol may help reduce skin redness and puffiness. It is also commonly used to soothe the irritation of acne and the stinging sensation after hair removal.
There are a few ways you can add a hydrosol to your beauty rituals besides using it as a gentle toner. Here are some ideas:
- Use it in place of water when you mix powdered masks.
- Wipe it over your face to remove the grime of the day and refresh the skin.
- Combine it with a face or body oil (in your palm) to help the oil absorb into the skin.
- Mist your skin with it right before applying a serum or moisturizer to help those products absorb better.
50ml or 100ml
Housed in amber PET plastic spray bottle(s)
Imported from Australia / Korea and sourced in small batches

Your Ritual: After cleansing, spritz your skin generously with a hydrosol and leave it to dry. Alternatively, you can dampen a clean cotton ball or reusable face round with your chosen hydrosol and gently blot the skin all over your face and neck. Feel free to gently sweep it across your face, using upward strokes (if you'd like) before allowing it to dry. 

Continue with the next step in your morning and night skincare routine.

Ingredient: Rose Hydrosol.
---