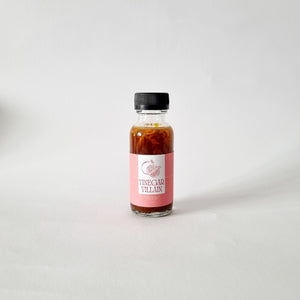 The Raw Rebel
Vinegar Villain Hair Rinse
Regular price
RM18.60
RM0.00
Unit price
per
"Every story needs its hero. And its villain." For all your heroic attempts at having great hair, Vinegar Villain is here to make that last rinse count.

Why choose a vinegar rinse? When used properly, it clarifies as it conditions the hair and scalp, helps remove residue, revitalizes dull hair and naturally decreases tangles.

Unlike some vinegar rinses in which the first ingredient is water, ours is organic raw, unfiltered, unpasteurized pomegranate vinegar. It contains naturally-occurring "Mother", strands of protein, enzymes and friendly microbes, that gives it its murky, cobweb-like appearance.
Vinegar Villain is an attempt to try out a traditional Mediterranean recipe for shiny, lustrous hair, with our own twist.  According to what we've read, fruit vinegar has long been the region's ideal natural home remedy for healthy and beautiful hair.

"Pomegranate vinegar's natural acidity works to bind the hair cuticles tightly together, smoothing the entire hair fiber so that it reflects light more easily. This acidic pH also helps to neutralize the dulling effects of limescale and hard water, which can build up on the hair over time and obscure the hair fiber's natural luster. Its natural acidity also helps to maintain a healthy, well balanced scalp."

"Pomegranates have been grown by farmers for centuries and are lauded not only for their unmistakable flavor and juice, but also for their abundance of antioxidants (tannins, anthocyanins and ellagic acid). The antioxidants in pomegranate can help protect against damage from oxidative stress, as well as minimize build-up on the scalp. It's been also said that pomegranate vinegar may reduce the risk of hair loss, making hair strong, thick & healthy."

Now, you can add water to create the perfect rinse for your hair at home. Better yet, you won't be paying for a product that is mostly water.
⠀⠀⠀⠀⠀⠀⠀⠀⠀
30ml
Housed in a glass bottle with screw top plastic cap
Handmade in small batches or to order
Storage: Store in a cool, dark place away from direct sunlight, high heat and moisture.
Shelf Life: best used within 6 - 8 months
Frequency: You can use Vinegar Villain once a month or once every three weeks. Not more.
Your Ritual: Use after shampooing. Mix five parts water to one part Vinegar Villain in a spray bottle (or add one tablespoon of Vinegar Villain to 500ml of water). Spray your scalp well, enough that it'll be evenly coated. Work the vinegar into clean hair with your fingers. It will be diluted enough that it shouldn't burn. Allow the vinegar mixture to sit for two to five minutes. Rinse your hair and scalp with cool water. You won't need to use a conditioner on the day you decide to use Vinegar Villain. Rinse your hair well, until you're sure all product (and vinegar) is down the drain.
Ingredients: Organic Pomegranate Vinegar, Organic Nettle Leaves, Organic Guava Leaves, Organic Amla Powder, Organic Calendula Petals, Aloe Vera Extract, Ylang Ylang, and Ginger Essential Oils.
---